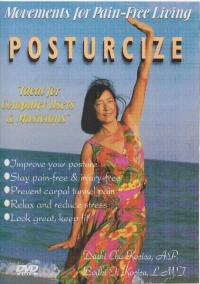 POSTURCIZE DVD Part I: Movements for Pain-free Living $15 +S&H Now you can improve your posture, while staying fit, pain-free and injury-free with the POSTURCIZE fitness routine, fun and easy-to-learn movements set to music that will stretch and revitalize all parts of the body, while promoting strong and supple joints. The daily practice of Posturcize will relieve muscular tension in the neck, shoulders and back, while helping to prevent bursitis, joint pain, tendinitis, carpal tunnel or finger pain (45 min)
————————————————————————————————-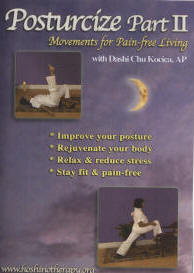 POSTURCIZE DVD Part II: Movements for Pain-free Living $15 US + S&H This DVD contains a 6 minute routine of the Hoshino Exercises, the minimum daily requirement for exercise. Also you can practice 2 lower body routines: the quick and easy standing chair routine, or the 20-minute low-back routine, yoga-style stretches practiced on the back, that are safe when you need relief from back pain. The DVD also shows you how to use "Tools for Pain-free Living," Professor Hoshino's patented Back to Life Board to relieve muscle and back pain while keep your spine supple.(60 minutes).
$15 plus shipping and handling
POSTURCIZE PART II private video access $10 (see above for description)
---
SWIMMING DRAGON QIGONG DVD $15 US + S&H Swimming Dragon QiGong is unsurpassed for its simplicity and graceful movements which imitate a dragon emerging from the sea. This easy to learn one-minute form enhances weight loss by slenderizing the waist, regulating the appetite, hormones and lymphatic circulation. When practiced for 20 minutes daily, it rejuvenates the body and mind, keeps your spine supple and pain-free, promotes inner peace and life-long health (45 min).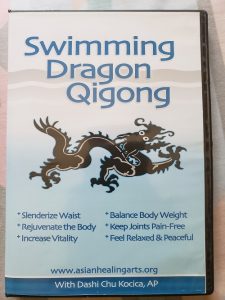 $15 US + S&H
————————————————————————————————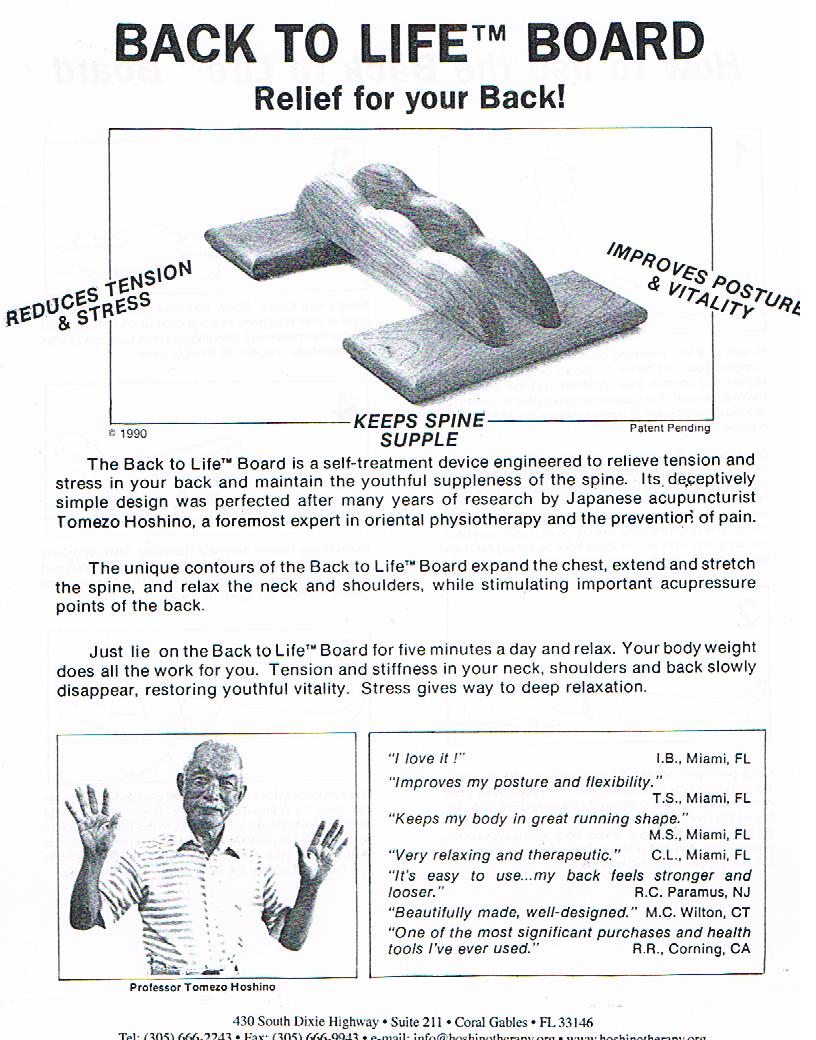 Back-to-Life Board $49.95 + S&H Now you can give yourself an acupressure treatment every day. All you need is to lie on the Back To Life Board and relax. In just minutes a day the Back To Life Board relieves tension and stress, improves posture and vitality, keeps the spine youthfully supple. Small enough to pack in your suitcase, it is beautifully made of hand-finished wood So unique it has a US Design patent.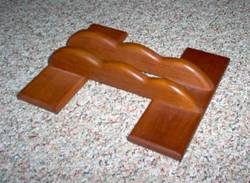 Microwaveable Rice Heating Pad $45 + S&H
Enjoy the comfort of this rice-filled moist heat pack and the way it conforms to your body for optimal contact, size 17′"x 20″ variety of prints and solids, email for photos of current selection.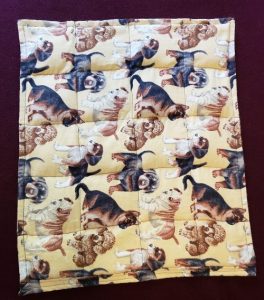 $45 + S&H